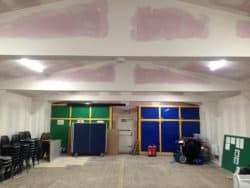 After being homeless for the last 6 weeks, the first phase (of four) of our ambitious project has been completed! But this is only the start!!!
The first phase has seen work completed on the main hall, with new energy efficient lighting installed, new electric heating and a complete electrics re-wire.
The hall has also been insulated to help keep the building warm during the cold winter months.
Funding from our previous fundraisers and a grant from PROTOS have allowed us to start the project, however we need your help to secure funding for the remaining three phases which include:
re-structuring and completing the refurbishment of the rest of the building.
installation of secure (and fire retardant) doors.
installation of new boilers for hot water in the toilets and the kitchen.
installation of Windows in the main hall to introduce natural light.
re-cladding the exterior of the building.
We'd like to extend a huge THANK YOU to Four Seasons for assisting and completing the work on the first phase of our HQ refurbishment.