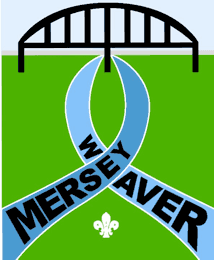 Mersey Weaver is a Scout District in Cheshire that is the result of the merger of North West Cheshire and Widnes Districts.
Mersey Weaver is one of the larger district's under Cheshire County Scouts catering for young people between the ages of 6 and 25 with a total membership of around 1,412 (and growing).
Scouting in the UK provides adventurous activities and personal development opportunities for half a million young people (including 60,000 girls). Internationally over 28 million young people and 4 million adult volunteers enjoy the benefits of Scouting across 216 countries.
Personal development means promoting the physical, intellectual, social and spiritual well-being of the individual, helping them achieve their full potential. In Scouting, we believe that young people develop most when they are 'learning by doing,' when they are given responsibility, work in teams, take acceptable risks and think for themselves.
The District is made up of 17 Scouts Groups (which includes a Sea Scout Group recognised by the Royal Navy), and 4 Explorer Scout Units which cater for young persons from the age of six upwards:
and adults:
The District stretches from Ince and Elton in the west, to Moore in the East, Widnes in the North to Norley in the south with locations in Elton, Frodsham, Kingsley, Moore, Norley, Runcorn and Widnes.
We have two activity centres:
Queen Charlotte's Wood – on the outskirts of Alvanley which offers both camping and indoor residential sleeping facilities together with an on-site Archery range, campfire circles and pioneering resources.
Clogwyn Centre – located in Bangor, North Wales. The Clogwyn Centre is ideally located for adventurous activities to suit those in the age range from Scouts, Explorers, Network and upwards. The Centre can accommodate up to a max of 37. The stunning and exciting mountains of Snowdonia are close as well as the spectacular beaches and sand dunes on Anglesey. The Centre has an indoor climbing wall, mountain bikes and equipment which can be hired.
For more information visit the Mersey Weaver Scout District website.